Google trend is mostly useful to find trending market research to get success in SEO and Affiliate analysis
The main purpose is to track a year back traffic for a specified product and also for a current
trending topic.
How to use google trends?
For effective use of google trend, we have discussed 5 methods that bring you a winning
strategy for your affiliate and SEO works.
The list of the topic is
How Google Trend Helpful To Us?
How Google Trend Useful For SEO
Region-Wise Targeting
How Google Trend helpfull For Affiliate Marketing
How To Find Keyword By Using Google Trend
Act Before It Gone Trend
How Google Trend Helpful for Us?
By using google trend we can analysis the following parameter listed below:
to find focus keyword
To find a trending topic
upcoming trending topic trough tracking past
year analytical data
content marketing
increase number of visitors for your blog
the easiest way to find where your customer is
increase your affiliate goal through direct
target your potential customer.
How google trends useful for SEO?
There are a lot of free tools available on online platforms regarding SEO but no one will replace the google trend in terms of exploring platforms as well as country-wise trending information.
This will give you a better chance to choose an evergreen
content topic idea
user searchable keyword
brand position
explore location wise target audience
mainly to find which month is feasible to get massive traffic for your content and also for youtube videos
In terms of keyword research through the "+ compare " and "country-wise location" filtering category, you can pick up the best long-tail keyword for your content.
This will bring your content top in SERP
All our concern is to drive traffic to our content
Hear if you planning to write content for affiliate marketing at this stage google trend will show you the highly searchable topic that not only trending as well as evergreen traffic generating a topic.
NOTE: Even though you pickup a trendy topic without the best on-page SEO based content you need not able to drive more traffic for your post. Hence you need to know
how to do the best on-page optimized content?
How to write content for affiliate marketing?
For example, write content about "precaution step to be taken in rainy days" and publish and promote it in the month of June or September to grab thousands of views if you are in India.
How google trend is useful for affiliate marketing?
The professional affiliate mostly uses google trend to track out the trending product for their affiliate marketing
for affiliate marketing you need to choose the product that has more search records. Even in the same product, there will be a major difference in traffic
for example on rainy days not all people have the intent to buy a raincoat, some of them
concentrate on jerkin.
So to find the traffic rate between the two products you need to click "+ add compare tab" and enter jerkin.
Now you can clearly notice that comparing to a raincoat, jerkin has a very high search volume
Now you can understand that if you concentrate on jerkin you will get more sales compared
to rain court.
Choosing the correct season as well as the product is a good strategy for success in
affiliate.
Now it is time to analyze the graph and verify that in which month or season have more visitors
with respect to your keyword rain court or jerkin.
Highest spike in the graph indicate the month that has the highest number of the user searching for that particular product in online and e-commerce website, by keeping the cursor at the spiked area
Now you notice that highest visitor engaging in September and June because,
June: rainy days for north India
September: rainy days for South India
TARGET BY REGION WISE:
Now you know that in which month you want to do affiliate marketing
But, where you can find your potential customer to increase sales?
In "compared breakdown by sub-region" you can find your answer

At this stage, you point out in which region or state your potential customer are present
Instead of targeting all over the country you can easily identify the region where your
majority of your potential customer is present and target them through add
campaign and double your sales and also increase your lead generation
HOW TO FIND KEYWORD BY USING GOOGLE TREND:
The list of the word present in the "related queries" category is taken as a long-tail
keyword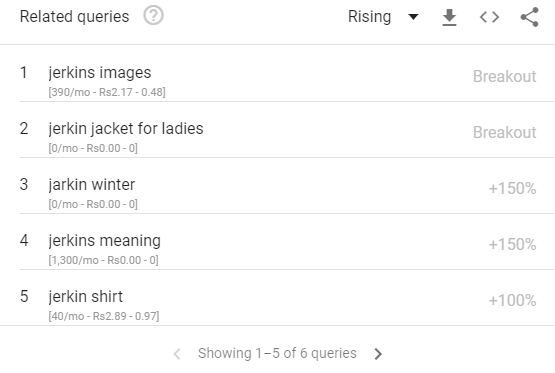 You want to take
both top and rising keyword and optimize that in your content
Don't stop here because you want to analyze more in terms of keyword difficulty, priority and
competition level of your chosen keyword with the help of the free tool like Google
keyword planner, uber suggest.
This will mostly helpful in choosing a focus keyword for your SEO strategy
It will increase your page visibility and bring more leads
This result is purely based on real user search history so that you can make 100% trust in it.
NOTE: How to do keyword research for more traffic
ACT BEFORE IT GONE TREND:
This is the most important strategy that that most of them don't know about this
In a month mostly some days have to be some special on it
For example: let we take the month august
| | |
| --- | --- |
| DATE | DAYS |
| August 4 | NATIONAL FRIENDSHIP DAYS |
| August 12 | RAKSHA BANDHAN DAYS |
| August 15 | INDIAN INDEPENDENCE DAY |
| August 17 | PARIS NEW YEAR |
Hear August 4
is a friendship and now you need to search the history of friendship for the
past 5 year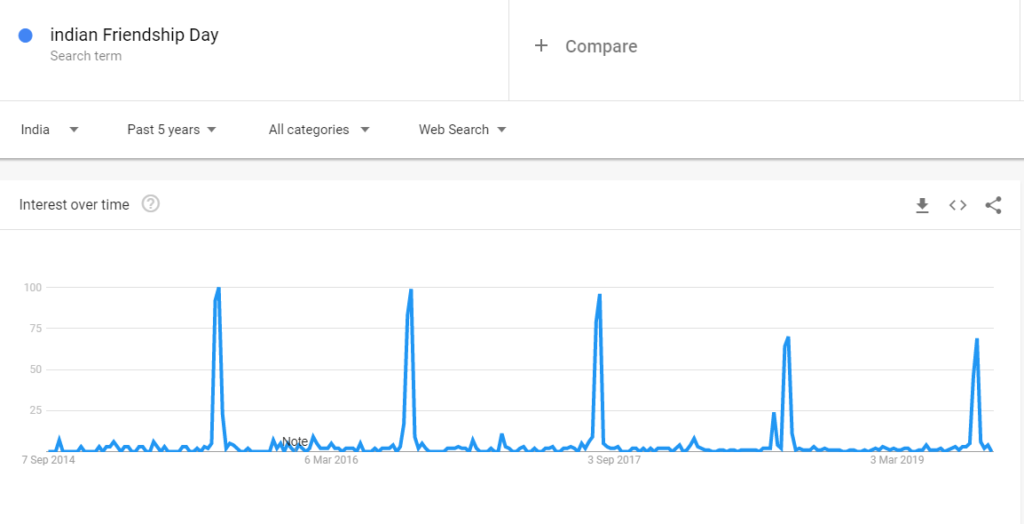 Now you can notice that the maximum spike is between July's to august for every year
Hence you want to act soon by preparing content for blog or YouTube
At least you need to modify your old post with the current trending data.
Otherwise, you miss the great opportunity to take part in the race and lose your chance of
branding your website and lose your sales.
CONCLUSION:
Follow these 5 effective unknown tips and increase your visitor, brand awareness for SEO and affiliate program through google trend.
The best part of the google trend is to track the past year's record and act upon it to get
success.
If you have any drought or need more information regarding google trends just comment your
queries hear.